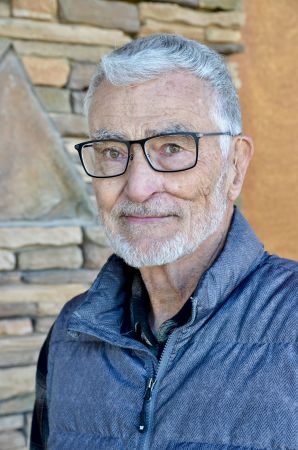 Howard's Celebration of Life
March 24-25, 2018
On March 24-25, family and friends gathered in Bend, Oregon, to celebrate the remarkable life of Howard Gorman. Here are the photos, and below is Howard's story:
An Amazing Life Worth Celebrating
When most people retire, they really retire.
And then there's Howard and Chris Gorman, who never viewed retirement as license to move into the slow lane. When they moved to the Bend community in 2004 they saw opportunities for volunteerism, and each answered the call to give to the community.
Howard's volunteer efforts would seem to have little in common with his intriguing and diverse career. He was a middle man in supplying the U.S. Navy with proprietary computer memory technology central to help avert a nuclear holocaust during the Cold War.
More ▼
Then he showed every national police force in Europe how to modernize their fingerprint recognition technology, a feat that would have made Sherlock Holmes giddy. And in a sharp departure from his high-tech background, he sold Jelly Belly jelly beans to candy stores with help from President Ronald Reagan.
Yes, Howard has known how to relax. Mention golf or garden railroads and you've got his attention. But he'll tell you that, at 79, service to others is the bedrock of a fulfilling retirement.
So when he and Chris sold their candy brokerage and moved from Tustin, Calif., to Central Oregon, they got right to it. Their first outreach was at St. Edward, the rustic Catholic Church in nearby Sisters, where they became wedding coordinators. They also were involved on the civic front, becoming part of a grant team chartered to help develop strong city leadership into the future.
Then, in Bend, he got involved in two major projects. He advised Habitat for Humanity on management efficiencies that resulted in their ability to build more homes -- at the same time that Chris was volunteering at Habitat's ReStore, turning seemingly worthless donations into works of art. And Howard helped recruit a major investor to finance construction of the Central Oregon Veterans Ranch, dedicated to helping war veterans cope with Post Traumatic Stress Disorder, and became its board president. And he played in and served as president of a concert band and also played in a swing band. In each, he wielded the same alto saxophone he played in the Purdue University Marching Band in the late 1950s. And at every opportunity, Howard photographed the people and non-profit organizations in the area because that's what it was ultimately all about: being there for others.
But time has now grown very precious to Howard. He learned in late February that his abdomen was being ravaged by a rare, aggressive form of cancer that, doctors warned, could claim him within two weeks. He shared the news with his family, and reluctantly withdrew from his community volunteerism in order to stoically relish every possible moment with Chris, his college sweetheart and wife of 56 years.
But as he waits for the same inevitability we all eventually face, he has lost neither his spirit nor his smile. His continuing good cheer amazes family, friends and strangers alike. When Howard queried a hospice nurse about arranging palliative care for a cancer-stricken patient, she asked who would be the patient.
"Me," Howard said. The skeptical nurse looked hard at him. "Really? You?" "Yes, me," Howard answered. It was difficult to accept because Howard looked fit and strong, was grinning broadly and quipping jokes, even if he was the first to laugh. He then explained to her his situation: He had a form of liposarcoma, so rare that it shows up in less than 1% of all newly diagnosed cancers. It is particularly virulent, preying on soft tissue and fat cells in the abdomen. He has declined chemotherapy because it seemed so futile and would make his waning days all-the-more miserable.
"I want to face death head on," Howard told his family -- Chris, their three children, five grandchildren and his four siblings. And he is staring down his cancer with dignity and courage. A devout Catholic, he is at spiritual peace. In fact, it seems that Howard has been at peace all his life.
---
Howard Charles Gorman was born in Chicago on Dec. 7, 1938, and grew up in the outlying towns of Hinsdale and Kankakee, the first of five children that Betty Lou and George Howard Gorman would raise. Howard was the easiest. He quickly advanced out of kindergarten because he was so tall for his age, his knees raised the classroom table, making it wobbly for the other youngsters. Among his diversions: watching planes land at Midway Airport, and taking the train with his parents to downtown Chicago for shopping. It would be the beginning of a life-long love affair with railroads.
At St. Patrick High School in Kankakee, the teenager Howard was easy to spot in the crowd, thanks to his 6-foot-3 frame that landed him as the backup center on the school's basketball team.
Hoops was only a small part of Howard's life. He was the editor of the school paper and was elected student body president -- and despite all those distractions, earned straight A's all four years and graduated as the class valedictorian. He had other achievements: When the nuns' vehicle was spewing smoke -- the dealer said they were driving the car too slowly -- Howard got behind the wheel and roared down the highway. The smoke stopped. And when St. Pat's opened a new school with an unusual concentric design, Howard was the student tapped to lead public tours. Howard's next step: Purdue University, which offered a strong electrical engineering program. He already had earned enough college credits in high school to begin 200-level courses.
Despite a heavy academic load, Howard and his sax found their way into the university's 400-musician precision marching band -- and also borrowed a bass clarinet in order to perform in the symphony orchestra as well. But his best band performance: A nationally televised Purdue game with an Indian-themed half-time show. Someone had to use a fire extinguisher that would spew smoke-like signals into the air from within a teepee. The job went to Howard.
And how did he meet Chris? One Sunday during his third year at Purdue, Howard took a seat in the choir loft at church, was looking down onto the pews below and spotted a young woman, stunning for her height and beauty. This would be the first time Howard had ever chased a girl in school. "I thought I'd meet her after Mass, but when I went outside I couldn't find her," Howard recalled, sharing his favorite story of all time. "I looked down the street and spotted her three or four blocks away. I took off and finally caught up to her right in front of the women's dorm. I dared to approach her." And the only romantic words he could utter: "Boy, you sure are a fast walker."
So they talked, for hours and hours. They shared their souls and their goals, and discovered how well they fit, how much they enjoyed each other. They fell in love. And by chance, they enrolled in the same elective class -- called, simply, "Marriage." The final term paper was supposed to be a reflective piece -- who are you, who are you looking for as a life companion, that sort of thing. Howie wrote that the person he was going to marry was in that very class. The teacher scoffed, saying they were not compatible. Howard graduated in 1960, and they married in 1961 after Chris graduated. They've been "incompatibly" in love for more than 56 years.
Their three children - Mike, Kathy and Steve - arrived in the 1960's. Two were Florida natives owing to Howard's first job at Honeywell Aerospace in St. Petersburg. Steve is a true Californian and with wife, Susan, have five children, one adopted. But there's more. In the 1970's Howard and Chris took in for two school years a charming boy, Refugio, from Tijuana to help him finish an American school experience. Then came an elderly couple who escaped from Viet Nam, Le Van Phat and his wife. Lastly, Ali Sharghi, son of an Iranian General serving under the Shaw, joined the family for a school year as his father wanted him to experience life in America, and was promptly given a paper route and bicycle. Just imagine how this enriched their children's education and understanding of other cultures!
Howard had now launched his career -- and at a time when science technology was unfolding so swiftly and in so many niches that he couldn't decide where he'd best fit. So he decided to go into the marketing side of the business and drew from his technical knowledge to serve as his company's front man in promoting cutting-edge technology to customers both civilian and all branches of the military.
After moving to Orange County and while working for North American Aviation's Autonetics division in 1964, during the Cold War, he was sent to solve a vexing problem faced by the Navy. It had developed the Poseidon submarines, equipped with multiple missiles -- each one designed to carry multiple nuclear warheads onto specific targets. But the computer's memory in the warhead's guidance system, which was manufactured by a different company, was defective. Autonetics developed a better memory device -- that was Howard's specialty -- and he became the program manager assigned to solving the Navy's problem. Indeed it worked in test firings, and the Navy was now confident that any attack on the United States would be answered in multiples.
While at Autonetics, Howard switched gears and marketed first-of-its-kind digital fingerprint identification technology. His clients were the top levels of the federal police organization in every country in Europe. It would allow the authorities to take a fingerprint, scan its data points and compare it to a data base of other fingerprints in search of a match -- a process that previously would take hours, days or weeks if even possible at all. For police departments around the world - and smartphones - this technology for instant identification is now routine. Next up for Howard: marketing a guidance system for global positioning satellites that we take so for granted today.
By now Howard was 39 and reassessing his career. He and Chris had participated in a Marriage Encounter weekend, a retreat launched by the Catholic Church to make strong marriages even better through enhanced communication skills. During that weekend, Howard and Chris reflected on absences for work, of missing Chris and the children, and the cold- heartedness of big corporations. "The time was ripe for change," he said. So he spoke with his father about his homegrown candy brokerage and what skills are needed to persuade candy outlets -- from Disneyland to mom-and-pop candy stores -- to carry confections made by the companies he represented. One year later -- on his 40th birthday -- Howard resigned from his job in the space industry, and Dad happily turned the business over to Howard and Chris. "It would be something new and we decided to make a go at it," Howard said. "I was tired of the corporate life.
Initially the candy business was a challenge, but thanks to Ronald Reagan's love for Jelly Belly, Howard and Chris' life became a bit, well, sweeter.
They operated their gourmet candy brokerage for nearly 25 years and it became one of the largest specialty firms in the country, a stunning run of marital success for a husband-and-wife team, said Julian Cangelosi, their longtime friend and accountant. "They're the best managers I've dealt with, because of their skills and how well they work together," he said. "I am very opposed to spouses working together in a business because you're forcing people to maintain dual relationships -- one for work, and one for the marriage. To work with your spouse every day in a business is very rare. Most can't do it."
---
When Howard and Chris moved to Bend after retirement, their chemistry in working together and their shared gung-ho attitude in volunteering was swiftly noted by everyone who encountered them.
Howard made his initial mark at St. Edward by buying 15 boxes of Girl Scout cookies after one of the first Masses here. In short order, they became active in numerous church functions and were trusted by the pastor to join a select guidance committee. Then Howard joined the concert and swing bands and served in different helpful positions including marketing and concert band president.
Chris was the first to volunteer at Habitat for Humanity, running a team of artisans to turn castoffs into inventive pieces of decor for sale at ReStore. Howard, meanwhile, introduced himself to the executive staff, offering his project management skills and software. "He said, 'If I can help you, here I am, whatever I can do,' and yes we needed help with planning and scheduling (home construction)," said Scott Rohrer, the organization's executive director. "Howard jumped on board, created templates and structure that we terribly needed, and made it so much easier and efficient. The result is that we can help more people and change more lives."
While serving at Habitat, Howard was asked if he could take photographs of a fledgling ranch outside of town that Alison Perry, who was familiar with PTSD due to her work at the Veterans Administration, wanted to turn into a therapy opportunity for military veterans. Her idea: to give veterans with PTSD a chance to focus on a hands-on outdoors project that would give them a sense of accomplishment and ownership, amid the camaraderie of other vets. While visiting the ranch, Howard asked what more he could do. Perry was at the time trying to win support of a possibly significant donor to underwrite the effort. To that end, Howard prepared a business plan and other documents to give credence to the dream, and the financial assistance followed. Howard's involvement brought confidence to the project and made it a reality, Perry said. He was then asked to became president of their board, which he accepted.
And so it has gone: countless hours of volunteerism, of Howard -- with Chris right at his side -- making the most out of retirement for the good of others. His legacy will benefit Central Oregon long into the future and be celebrated by all those who have come to know and love him.
By Howard's youngest brother, Tom, a retired journalist who wanted to write about Howie.
Loading video for Howard's Celebration of Life